One of my good friends got married yesterday and the attire was resort-chic. It meant that we didn't have to come in fancy stuff and my hubby didn't have to wear a suit! Think neutrals and colours. I decided to make a top from this extremely late 80s/early 90s style skirt I had. It was calf length and a bit awkward but I love the colours and didn't want to give it away.
In this project, I didn't use a sewing machine, only a needle, pink embroidery thread, a pair of scissors, sewing chalk and my glue gun. Sorry, I don't have exact measurements.
The before!
The after! Does it give you a resort feel?
First step:
Measure from shoulder to wherever you want your top to end.
Cut the skirt to length
I had cut off a good 8 inches so I cut that into four 2 inch strips of fabric. I then opened the left and right seams of the top of the skirt - this is where the arms will go.
I added darts to the top of the front and back panels
Second step:
Darts in the middle, left and right. Use your chalk & ruler!
Third step:
Used my trusty hot glue gun to glue the darts.
I didn't use a sewing machine as the top of the skirt was
elasticated and thus too thick for any needle!
Fourth step
While waiting for the glue to dry, I made a plait
from 3 strips of fabric.
Fifth step
I sewed the plait along the top edge of the front panel
and then the back panel.
Made sure I could fit my arms in
though!
Final step was to tidy up the fraying ends at the bottom of the top and at the sides of the arm holes. Here I did a blanket stitch with my pink embroidery thread.
I hope you like it! I also made a flower with the 4th strip of fabric.... I'll be putting a tute on that soon! Here is the link. Enjoy the rest of your Sunday! :-)
You might like this!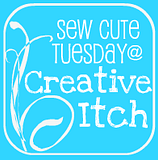 Also at Today's Creative Blog.